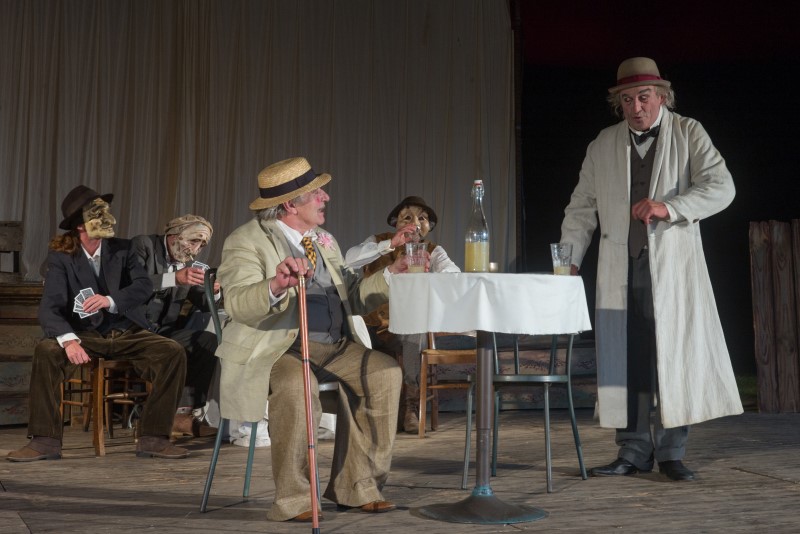 Why Molière?
Molière is provocative, caustic, saucy, disturbing, clever and moving, often all at the same time. As a playwright, he sets up and dismantled archetypes. Molière knocks and caresses. He speaks of love, business and politics while drinking glasses of white wine.
To this international troupe, it is important to revisit good old Molière and remind the world that he was above all a buffoon, a king's jester and therefore an artist devoted to the unveiling of liars and hypocrites.
The Forced marriage
Comedy-ballet or comedy-masquerade, in 1667 Molière writes a play in one act without music. In 1672, the comedy-ballet was rehearsed and performed for the royal festival with "La Comtesse d'Escarbagnas" – text by Molière, a new music and libretto by Charpentier.
Footsbarn decided to reintroduce the idea of intermezzos inspired by the music of Lully and Charpentier by taking texts of the time on the themes of the play: an old man who marries a young girl, the fear of being cuckold, the dangers that await us: jealousy, suspicions, sorrows.
The appearance of our "demons" follows a general theme: putting oneself in an impossible situation with no escape.
Footsbarn has added scenes from "La Jalousie du Barbouillé": time has passed, they are married, the couple can't function, the arguments are incessant and the fear of being cuckold has only increased.
The environment is the same: the father, the friend, a philosopher, the brother, the lover. Dorimène becomes Angelique and the Barbouillé is Sganarelle. "Always dissatisfied, always cuckold, the most unfortunate of men."
Life goes on. He returns and is reminded of his fears, his doubts, and if Sganarelle foreshadows the character of George Dandin, the end is not the same: Dandin is tragic, here everything continues in spite of all like an endless ballet. Life goes on and nothing changes. Everything turns to the absurd – "oh, the beautiful symphony."
Artistic list
Sganarelle future husband of Dorimène: Paddy HAYTER
Geronimo friend of Sganarelle; a Philosopher: Vincent GRACIEUX
Dorimène, a coquettish young girl, promised to Sganarelle; a Gypsy: June MCGRANE
Alcantor father of Dorimène: Haris Haka RESIC
Alcidas brother of Dorimene; Lycaste lover of Dorimene; a Gypsy: Tony WADHAM
Pancrace Aristotelian doctor; a Gypsy: Henri ALEXANDRE
Technical list
Scenography, creation of masks, puppets: Fredericka HAYTER
Costume design: Hanna SJODIN
Music Creation: Haris Haka RESIC
Creation of lights: Jean GRISON
Director: Thierry MESLIN
Technicians: Léo LAFORET, Jules HARRAP
Duration: 90 minutes without intermission