"When you lose your laugh, you lose your footing," Ken Kesey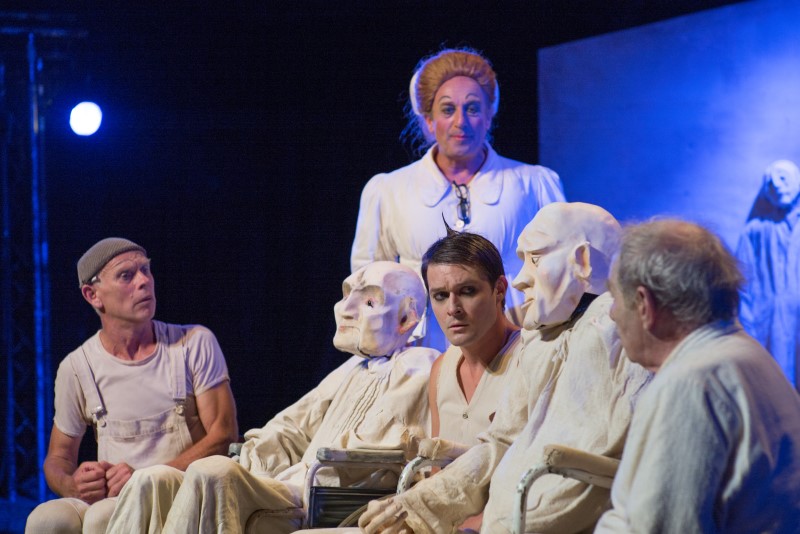 About Cuckoo's Nest
Freely inspired by Ken Kesey's classic novel is brought to life on stage by Footsbarn Travelling Theatre own joyful twist that tickles the imagination and touches the heart of audiences.
Many will remember Jack Nicholson's feisty performance in Miloš Forman's classic film, no less memorable is Footsbarn's Cuckoo's Nest, even though it is a very different adaptation of this literary and big-screen classic, combining the original book's powerful narrative with the world-leading company's uniquely comic slant and love of puppetry and masks.
Set in a psychiatric hospital, One Flew Over The Cuckoo's Nest is a touching and inspiring criticism of authority. Pitching the human values of freedom, friendship and self-respect against the establishment, it tells the tale of a group of rebellious patients who engage in a battle of wits with the hospital staff.
In an epoch where the very fibre of our individuality is being eroded by ever invasive technology and surveillance, it is good to revisit Ken Kesey's story.
A denunciation of all forms of dictatorship, an ode to freedom and friendship, to the right to be different, it is more poignant than ever today.
Artistic director, Paddy Hayter, describes the company's latest show as "freely inspired by Ken Kesey".
"I'd like to think the late author would have been delighted by the heady mix of humour, song, poetry, puppetry, physical theatre and mime employed by Footsbarn to bring his story to life on stage,"
Western Morning News
Artistic list:
Mc Murphy: Tony WADHAM
Harding: Vincent GRACIEUX
The Nurse – Candy: Naomi CANARD
Miss Ratched – Sandy: Paddy HAYTER
Billy Bibbit: André Júlio TEIXEIRA
Chef Bromden: Haka RESIC
Cheswick: Dominique PRIÉ
Technical list:
Director: Footsbarn Travelling Theatre
Set, masks and puppets: Fredericka HAYTER, Fanny LAVERGNE
Technical Director: Sophie BARRAUD
Costumes: Hanna SJODIN
Sound: Bruno HOCQUARD
Lighting Design: Jean GRISON
Film and projections Design: Sophie LASCELLES, Tim PEARCE
Set Builder: Brahim ARAR
Technicians: Thierry MESLIN
Duration: 100 minutes with no interval